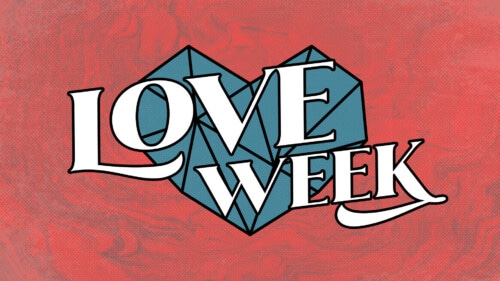 Love Week
March 26 - April 2
Sunday, March 26
Love Week Begins
Stop by the Love Week Booth to grab the supplies needed for this week! Grab a note card and say THANKS to a teacher or other public servant! Drop this card off at the Love Week Both on Sunday!
Monday, March 27
Teacher Thank-You's
Each of our church campuses partners with a nearby school. To say thank you, we're taking lunch and your personalized notes to the teachers there to help encourage them and get them through to the end of the year! 
Tuesday, March 28
Teddy Graham Tuesday
You know the drill! Pack a box or simply bring in the supplies for our precious small friends and their tired families receiving care at the Children's Hospital of Georgia, here in Augusta. If you forgot what to pack, it's all listed at StevensCreekChurch.com/missions. You can even bring your supplies into your church campus and we'll box them up for you! Return these unsealed, packed boxes to your campus on Sunday. 
Wednesday, March 29
Homeless Kits
Grab a baggie or oversized water bottle and fill it with essentials for our local homeless population. Keep a few in your car in case you see someone in need, and bring the rest to your church campus or to the Augusta Dream Center! Be sure to include invite cards in your kit.
Thursday, March 30
Local Heroes
Help us honor our local first responders with a free lunch! We'll include your personalized thank you notes. First responders can eat with us at one of our church campuses or take their plate to go and get back to helping our community. 
Friday, March 31
Change for Change
Clean out your couches and cars and dig up all that loose change for a good cause! Fill the jars you received on Sunday and as they fill up, bring them back to your church campus to donate to our missions department!
Saturday, April 1
First Saturday at the Augusta Dream Center and a Gas Giveaway
We're giving away gas cards at our South Augusta campus to help with the crazy cost of living these days! You can also come serve with us for First Saturday at the Dream Center at 9am. 
Sunday, April 2
It's All About Jesus
Remember that all week, the goal is to show the unconditional love of Jesus and invite people along with you to your regular church service! Make sure to get to service early, get them coffee and introduce them to your friends.
Sign up to serve during Love Week here
info@stevenscreekchurch.com | 706-863-7002