Easter
Sunday, April 9
Augusta Campus: 8am, 9am, 10:30am, 12pm
South Augusta Campus: 10:30am
Grovetown Campus: 10:30am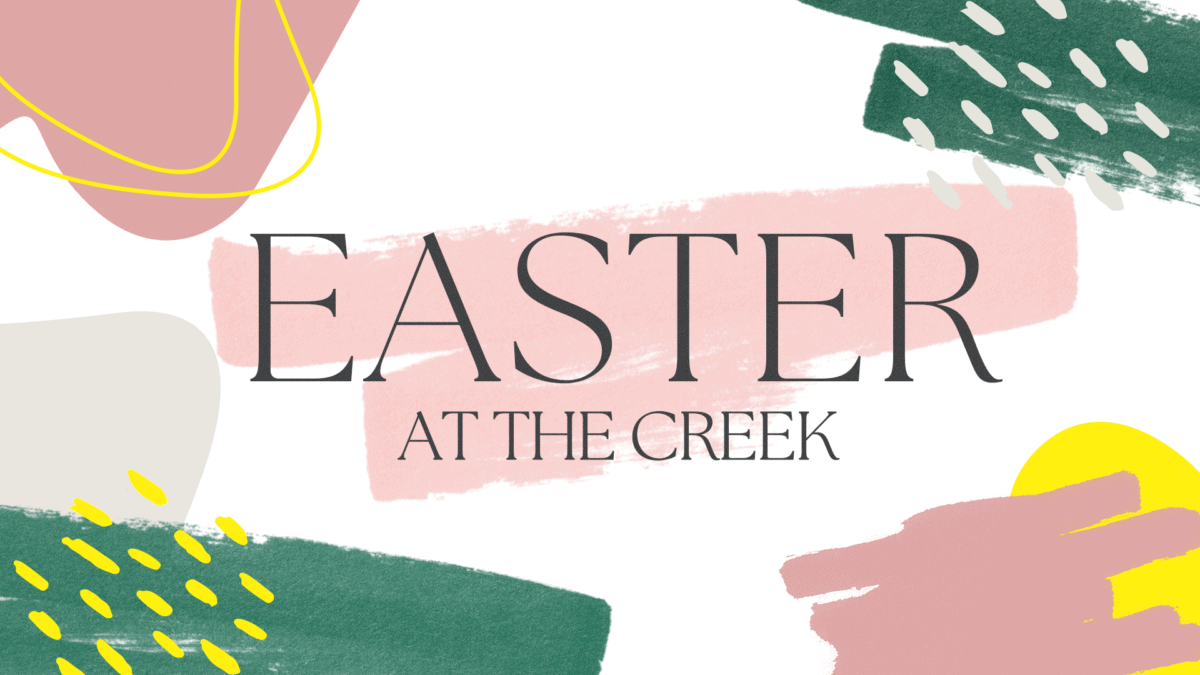 On Easter, we celebrate the resurrection of Jesus Christ. He conquered death and gave us eternal life with Him. Because of this act of love, we can experience the hope, joy, strength, and confidence that we all need in our lives right now. Join us for a service like no other as we worship and celebrate our risen Savior!
Invite Your Friends and Family to Easter at the Creek.
Share the good news with your friends and family this year! You can change someone's life with just a simple invite, and we've made it easy. You can download and share our digital invites to your social media this week to invite someone to attend with you.
We have Easter services for children 6 weeks old to fifth grade. During these services your child will learn about the Easter story with interactive games, creative crafts, and an inspiring lesson written just for them.
Parents, we want to make check-in as simple as possible for you. This year you can use our pre check-in service to check- in your child before you even walk in the building. By doing this, you will limit the amount of time you will have to wait in line to check-in your child.
What should I expect?
_______________________________
At our Easter services, we want you to feel welcome! We will come together to celebrate the resurrection of Jesus through community, worship and a powerful message from our pastor.
What time should I get there?
_______________________________
We recommend arriving 20 minutes before the service begins to find parking, check in your kids, take pictures with your family and find a seat. 
What should I wear?
_______________________________
We don't have a set dress code for Easter. We do have picture spots set up around our campuses for you to take family photos. Dress in what is comfortable for you!
Will there be anything to drink?
_______________________________
Our teams will be serving coffee on the patio outside and to recognize the Masters, we will have Arnold Palmers available.
Will the service be streamed online?
_______________________________
Our Easter Sunday services will all be streamed on our website, Youtube and Facebook. We encourage you to join us online if you aren't able to be in person. 
Where do I go to check in my kids?
_______________________________
We have Creek Kids for children ages 6 weeks old to 5th grade available at every campus. You can check in your kids when you arrive on Sunday or access our pre-check-in service. Watch the video above for more information.
600 Stevens Creek Road
Augusta
Georgia
30907
United States
3358 Peach Orchard Road
Augusta
Georgia
30906
United States
5050 High Meadows Drive
Grovetown
Georgia
30813
United States